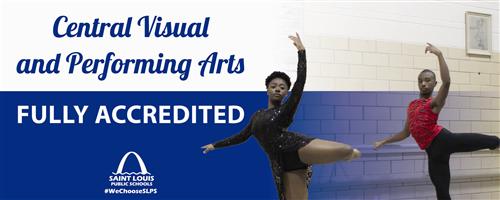 CommUNITY Fun Days at CVPA- is an annual event created to intentionally build CommUNITY among our school family (students, staff and community partners). It is an outward show of appreciation, gratitude, kindness and pure fun! At CVPA our desire to sustain a positive school culture is our "weapon of choice". Students enjoyed an outdoor pep rally with the bubble bus, ice-cream truck, live performances, grade level talent and teambuilding . Our celebration ending with our grand finale, an evening celebration at the City Museum!

PerformLAB-Central Visual and Performing Arts High School presents a new staged workshop series. After time spent in the virtual classroom, the students at Central VPA are stepping back under the stage lights and in front of a live audience. With that transition, the collaborative team of artists and school leaders created PerformLAB--think, TEDtalks for the arts. During each PerformLAB, students are encouraged to take risks, overcome stage fright, and workshop collaboratively with peers. While this may be the first time on stage for many of our students, the audience is also considered a critical part of the room, and they are challenged with audience etiquette and showing support and kindness--after all, they might be up next week!

Culture Clubs at CVPA - this year, all students are enrolled in clubs during the school day. Teachers volunteer to host a variety of clubs such as gardening, knitting, theatre appreciation, video games, ceramics, spirit squad, team sports and true crime to name a few. This is an opportunity for our students to grow through experiences outside of academics and to make connections with both students and staff. We are intentionally building a positive culture and climate through exploration and the arts, one student at a time.

CVPA alum and Metropolitan Opera singer Chaz'men Williams-Ali talks about vaccination against COVID.

A huge congratulations to Nyssa, Bucky, and Skye for auditioning at the Metro 8 all district choirs and SSAA Honors Choir!
Mission and Vision
Our Mission: Central Visual and Performing Arts High School fosters independent thinking in a creative and challenging environment, provides a diversified curriculum and environment, and prepares bright and talented artists for higher education and opportunities in the arts.

Our Vision: Central Visual & Performing Arts High School leads in fostering intelligence, creativity, and independence. We encourage innovative teaching and learning in a community that is inclusive as well as compassionate.

---