Greetings to all CVPA Families,

Please participate in the Spring 2023 Panorama Survey for families. The survey is now open through March 31st. The purpose of the Panorama Survey is to let us know how we can continue to improve our school culture and climate to meet the needs of our families. You can complete the Panorama Survey using a mobile device, laptop, desktop or tablet that is connected to the internet.

To complete the Panorama Education Family Survey please click HERE.

As always, your feedback is valued and appreciated!

CPVA High School Returns to a Full Schedule on Monday, 2/13/23.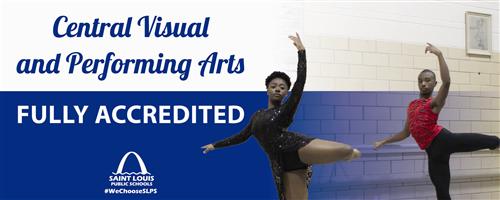 Good News @ Central VPA


Students doing a gallery discussion about The Normal Heart in English class. They walk the Academic Center, sharing thoughts on the walls.

-

Black History – Performances Across the Month and Beyond

-

By Alysia Ford

15 of our students are entering the Walgreen Expressions Challenge with Visual Arts

-

Students partaking in the SLPS Learn and Earn, Harris Stowe Finish Line, and Early College Admission programs

The CVPA Care Team recognized 13 ninth grade students for having a 3.8 or higher GPA for the 1st semester. Additionally, 11 students were recognized for maintaining a 99% or above attendance rate for the 1st semester. The students received an award and was able to select a gift of their choice from the variety of items purchased. This incentive was a morale booster for all students. The students agreed to become peer leaders in an effort to directly and in directly encourage their classmates to strive for academic excellence and improve their daily attendance. We are extremely grateful for the St. Louis Public Schools Foundation for providing the monetary resource to be able to recognize some of our most marginalized students.
Mission and Vision
Our Mission: Central Visual and Performing Arts High School fosters independent thinking in a creative and challenging environment, provides a diversified curriculum and environment, and prepares bright and talented artists for higher education and opportunities in the arts.

Our Vision: Central Visual & Performing Arts High School leads in fostering intelligence, creativity, and independence. We encourage innovative teaching and learning in a community that is inclusive as well as compassionate.

---