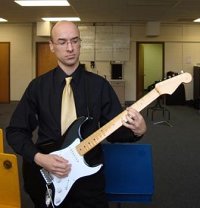 Phone: (314)-771-2772 Ext. 41407
Email:
Degrees and Certifications:
Mr.

Drennen

Subject: Instrumental Music/Guitar/Strings
Room Number: 407
Teacher Message: Summer Break has arrived!

Here are some music & guitar related activities for your Summer Break enjoyment.
PBS Media has some enjoyable (and informative) videos. (Be sure to check out the one about St. Louis' own Johnnie Johnson).
PBS Music
Kahn Academy does the Arts as well as everything else.
Khan Academy Arts and Humanities

If you feel like learning how to play a song, here are some lists of instructional videos organized by difficulty level.
Beginning Guitar
Intermediate Guitar
Advanced Guitar
Bass Guitar

If you feel like reading, here is a list of recommended books for your reading enjoyment.
Summer Reading List

If you have any questions or comments just contact me by email william.drennen@slps.org

Biography:
Bill Drennen fell in love with playing the guitar in 1975 after he had started playing a few years earlier. He was taught by his father and then was self-taught. When he was 14 years old he began to play a variety of music in bands at dances, wedding receptions, parties and clubs. At 16 he taught two of his uncles to play guitar and bass guitar. Within a year they were playing professionally with Mr. Drennen in a band on the weekends. In high school Mr. Drennen played percussion in the marching band and concert band, guitar in the jazz band and sang in the choir. After high school he attended Webster University. Majoring in guitar performance he earned a Bachelors of Music degree. After college he continued to perform and began to teach private lessons. It was during this time that he realized his love for teaching. Mr. Drennen started to perform less and spend more time teaching. He returned to Webster University to obtain his teacher's certification. In January of 2000 he came to Central Visual and Performing Arts High School and still occasionally performs in the St. Louis area.