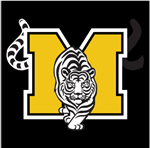 MERAMEC ELEMENTARY SCHOOL
2745 Meramec, St. Louis, MO 63118 314.353.7145
"HOME OF THE TIGERS"
Dear Families of Meramec Elementary School,
The faculty, staff, and administration of Meramec Elementary School would like to welcome you to the 2020-2021 school year as we continue our focus on "Academic Excellence". Due to the Covid-19 crisis, the first quarter of this school year will be virtual. This handbook will help you become acquainted with new and existing rules, policies, and procedures that we will follow throughout this virtual quarter. From time-to-time, it will be important to know, review, and often clarify our procedures with your student(s).
Last year, we announced that we are a part of the Consortium Partner Network (CPN). As members of the CPN, we have school-based autonomy and site-based decision-making. We are continuing our participation in the CPN this school year.
Although we are starting the school year off virtually, we will continue with our heavy focus on literacy and math. Our reading and math interventionists will work (virtually) with individual and small groups of identified students who need additional support. We will also continue to offer virtual counseling and therapy sessions to students.
Please note that we have a virtual attendance policy in place for students. Be sure to review that policy in the student handbook, as it is important that your scholar is present and ready to participate daily beginning at 8:15 AM. Also, scholars will be expected to continue with their independent learning and complete all assignments. Beginning August 25, all students will receive an iPad and a Wi-Fi hot spot, if needed. Please see the distribution schedule below.
Since we are virtual, our primary methods of communication include: Classroom Dojo, email, text message, the Meramec Elementary School website, and Facebook. If your phone number or email changes, please update that information by contacting the school. This year you will have continuous access to your child's academic progress and attendance via Tyler SIS Parent Portal. An email on how to access the portal will be coming soon, so be sure we have your current email address. Please work closely with your child's teacher, read and e-sign all papers sent home, and regularly communicate regarding progress and/or concerns.
It is imperative that you read and keep this handbook readily accessible to review throughout the school year. By making sure you and your child understand the district's policies, we will be able to work together to maximize his/her school experience.
We look forward to an exciting year where our scholars excel both socially, academically, and virtually. Students are our primary focus and together we can work for the betterment of the students. Our mission is to ensure all students reach their highest scholarly potential to become successful and responsible citizens. Our faculty and staff are committed to shaping the future through the work we do with your children every day.