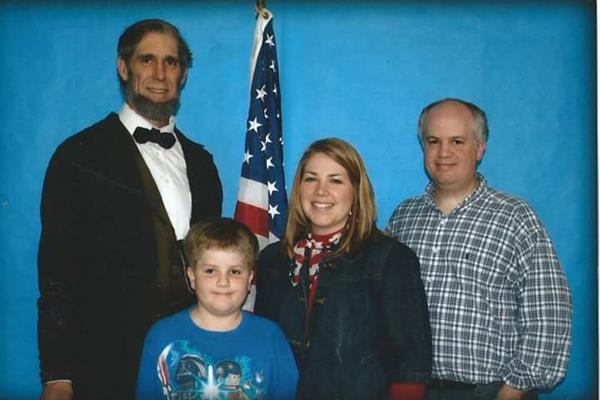 Phone: 314-353-7145
Email:
Degrees and Certifications:
MA in Teaching, Greenville University
Mrs.

Ellis

My name is Erika Ellis. I teach 3rd - 5th grade special education. I have a firm belief that every student can learn. I also believe that every student deserves an education that gives him or her the tools that student needs to learn. When students are given the tools they need to successfully read, write and problem solve, they can be successful anywhere they go. I celebrate student growth. I also celebrate students who do not give up in the face of challenges. I teach my students that mistakes are simply opportunities to learn something new. Please feel free to contact me at Meramec. If you call the school, please leave a message and I will call you back. You may also contact me through my school e-mail, erika.ellis@slps.org. I am also on Class Dojo. If you need a code to set up your parent account, e-mail me and I will get it to you.
Summer Learning Session II: August 3rd-August 14th, 2020

Click here to register:

https://forms.office.com/Pages/ResponsePage.aspx?id=az3jCFSmakiA4yCxkK4i1-QKEGIBN1RKnuJR5BfgXGRUMUxGQUkyM0hSNkswWEZDQ1E3Tzg1Tk9SQS4u

Session II is an academic enrichment program offering high-quality, research-based instruction with a focus on language, literacy, and math designed to support students in their transition to the next grade level. This session is for incoming Kindergarten students through incoming 9th grade students. This session format will be brick and mortar, online, or blended.

Important Notes:

· Registration for both sessions is currently available only to students enrolled in SLPS.

· Space in Session II is limited, and priority will be given to students with the greatest academic need in Reading.
Continuous Learning for Extended Break

I will be conducting continuous learning in Microsoft Teams. I will contact each student to set up days and times for IEP instruction.
I will also post assignments for each student in Microsoft Teams.
Students will be able to complete and turn in work in Microsoft Teams.
The link to our Teams page is Team: Meramec, Sped 3-5, 203
I will also post group assignments on this web page under the assignments page.
My virtual office hours are from 9:00 am to 11:00am every day. You can email me at any time, erika.ellis@slps.org.
The best way to get updates from me is through Class Dojo. You can download the free app or access through a computer. Please email me if you are not connected, erika.ellis@slps.org.

UPDATE: Prolonged School Break Due to COVID-19

First, I hope that my students and their families are staying safe! I really miss my students and all the learning and experiences that we will be putting on hold in the classroom. Even though we are not together, there are many different activities parents and caregivers can engage in with their students. Please remember that our students can and will learn but they may need extra support. This extra support may include more time allowed to answer a question (out loud or written down), help when reading independently, more movement breaks, help with keeping distractions away, and frequent reminders of multi-step directions and activities. These extra supports vary by each individual student. Please contact me by the email above if you need help or ideas for your student. These extra supports are detailed in the accommodation section of your student's IEP. Also, please make sure this time with your student is enjoyable never frustrating. If you or your student begins to feel frustration, walk away and come back later. No one truly learns when frustrated.
Learning Resources

Raz Kids Each student will be able to read books at their reading level. They can earn points and rewards as they move up levels. I will be able to see each student's progress. My teacher name is eellis2020. The student password is ellisreading.

Lalilo Your student will practice phonics skills based on their level. I will be able to see their progress and assign different lessons. 1. Enter code: NSINRR 2. Click on Mrs. Ellis' Classroom 3. Click on student name.

iknowit.com This website will help students practice and master different math skills. I will be able to assign math skills and see the student's progress. Click on the link. Select the login button on the top right hand corner. Login as student. The class code is ellis3-5. Student usernames are first initial and last name. For example, John Doe would be jdoe. Password is ellismath.

Prodigy This is a math website set at your student's ability and level. I will be able to assign lessons and see student progress. If your student has forgotten their password, please email me (erika.ellis@slps.org) or contact me through Class Dojo. Our class code is 935C63.

Reading Every Day is Essential for Learning

Reading is the most important activity you can do with your child. Read to your child, read with your child, and listen to your child read to you. Engaging with books, magazines and online text will help your student become better at understanding what they read and learning from what they read. After reading together, ask your child a few WH questions (who, when, where, what, why) about the text. You can also go deeper when your student gives you a one-word answer by asking them why they think that or how did they know questions.