Greetings Meramec Elementary School Families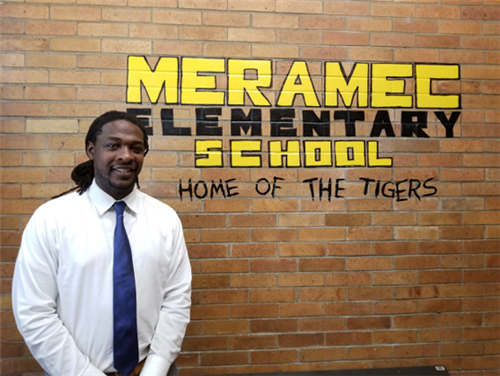 I'm extremely happy to join the staff and family of Meramec Elementary as the new Principal. I'm very passionate about education and I look forward to partnering with you to provide our students with a rigorous, engaging, and high-quality educational experience.
Before joining Meramec , I served in a variety of teaching and educational leadership roles at Thurgood Marshal, Confluence Academy and most recently Maplewood RIchmond Heights Elementary. My academic background includes a B.S in Elementary Education, M.A.T. Communication/Reading, , and an Ed.S Educational Leadership and Administration.
My aim is to deliver high-quality instruction to all students. I believe this is only possible through a strong home and school relationship. I will be working closely with our Family and Community Specialist to guarantee that all of our student are academically challenged and have access to the supports they needs. Please get involved with the Parent Teacher Organization (PTO) to ensure that your voice is heard.
Thank you for the opportunity to serve as your new Principal! Please do not hesitate to reach out to me if you have any questions, concerns, or ideas you would like to share.
Sincerely,
Jonathan Strong
Principal
Meramec Elementary School
---