Mr. Young presents the 2020-2021 Principal's Cup to oustanding 8th grade graduate, Ronald Comage!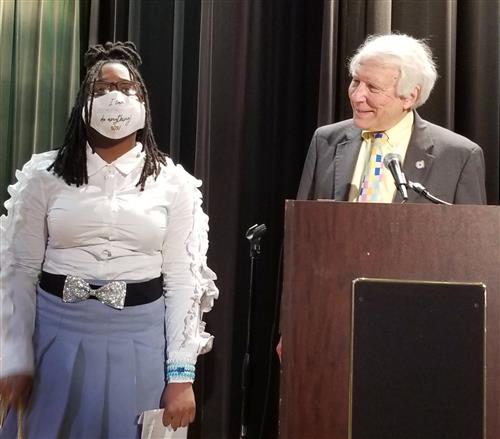 8th grade graduate Zarina Knox receives the 2021 Award & Scholarship from the St. Louis Rotary Club!
* * *
IMPORTANT RESOURCE LINKS
Virtual Learning: Microsoft Teams.lnk
COVID-19 FAQs: www.slps.org/covidfaqs

General hotline for questions, concerns: 314-437-8430
Social and economic resources for families: www.slps.org/resources

Social and emotional support hotline for students/parents: 314-345-6900,studentservices@slps.org
The links below contains information on utility assistance from Ameren.
Their deadlines have been extended.
Ameren Missouri Energy Assistance
* * *
LINK TO STUDENT'S VIRTUAL CLASSES IN MICROSOFT TEAMS!
CARR LANE MAKES LIST OF AMERICA'S HEALTHIEST SCHOOLS!
If you, your student, or family member
needs someone to talk to, click on the United Way link.
This will help you connect to trained professionals 24/7!
VIRTUAL MENTAL HEALTH SERVICES
COVID-19 Resources for Families
* * *
Carr Lane Virtual Norms and Etiquette
Question for Principal Young? Reach him directly at: Carr Lane Parent Help
* * *