Look here daily for updates and links to important information
from Principal Young and the District regarding our response
to the coronavirus situation...
Dear SLPS Parents: The district would appreciate your input!
Please consider completing the following online survey!
2020-2021 School Restart Survey
What seems to be our "new" normal has been challenging for all of us.
If you, your student, or family member
needs someone to talk to, click on the United Way link.
This will help you connect to trained professionals 24/7!
VIRTUAL MENTAL HEALTH SERVICES
The Saint Louis Chess Club would like to offer support
by way of our online classroom opportunity.
Welcome to students, families, and teachers!
This is 100% free for all of SLPS!
Digital Classrooms – Scholastic Chess / Saint Louis Chess Club
Special Announcement:

"TRiO WANTS TO GET YOUR SCHOLAR READY FOR COLLEGE AND CAREER!!"
HEC TRiO Educational Talent Search (ETS) has an exciting new website.
We want to make it available to ALL Carr Lane students and families!
Please click on the following link to explore the TRiO website to LEARN how TRiO can help YOUR SCHOLAR succeed on the path to COLLEGE AND CAREER!
TRiO WEBSITE (ENROLL IN TRIO—it's FREE TO JOIN!)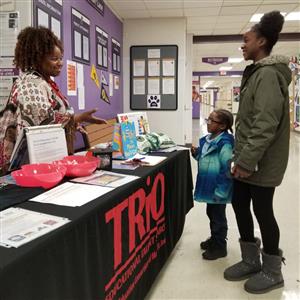 Ms. Hill of TRiO greets two prospective college students.
SPEND SUMMER 2020 w/TRiO:
SIGN UP TODAY for our FREE HEC TRiO ETS VIRTUAL SUMMER ENRICHMENT MIDDLE SCHOOL PROGRAMS
DESTINATION HIGH SCHOOL 2020.
Carr Lane students that have completed 6th, 7th, or 8th grades during academic year 2019-2020 are eligible to attend.
Click HERE for video and summer program details.
Click HERE for free online summer application.
TRiO at Carr Lane WORKS--GETTING YOUR SCHOLAR READY FOR HIGH SCHOOL, COLLEGE, AND CAREER!
* * *
An important message from SLPS Superintendent, Dr. Adams
and Ms. Rohde-Collins, President of the Board of Education of the City of St. Louis
Letter to St. Louis Public School Families
Pandemic SNAP/EBT Frequently Asked Questions
And... more great resources... click below...
* * *
Check-out the Newsletter from Carr Lane's Student Support Team!
Student Support Newsletter Vol. 1 No. 1 April 2020
* * *
Online Learning Information for Carr Lane VPA Students and Families

CARR LANE VPA MIDDLE SCHOOL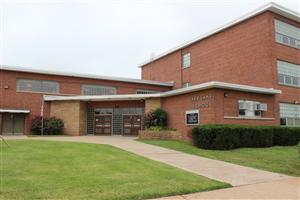 1004 N Jefferson
St. Louis, MO 63106
Office: 314.231.0413
Fax: 314.244-1734
Principal: Darwin Young
Hours: 7:10 a.m. - 2:10 p.m.
Grades: 6 - 8
Click HERE for a map.
---