4th Quarter Restart Commitment
You only need to complete this form if you want to change your student's choice of
instructional location for 4th quarter, which begins March 15.
* * *
Carr Lane 1st Semester 2020-2021 Honor Roll
8th Grade
4.0000 Knox, Zarina M
3.8333 Comage, Ronald Bernard
3.6667 Belton, Dajiah M
3.6667 Bohlen, Kornae D
3.6667 Dunger, Morgan K
3.6667 Roddie-Williams, Alyssa Ann
3.6667 Smith, Nikell Z
3.5000 Cooper, Royalty L
3.5000 Cooper, Wallace C
3.5000 Elliott, Amijah D
3.5000 Harris, Tristan Devaughn
3.5000 Haskin, Daniel A
7th Grade
4.0000 Brown, Carnetta Ann
4.0000 Harris, Tatum Dashawn
4.0000 Martin, Nevaeh H
4.0000 Simms, Talanna R
4.0000 Terry, Dkyra
3.8333 Wynn, MacKenzie
3.8333 Luster, Jerese K
3.8333 Evers, Hassan Davonte
3.6667 Binion, Rashad M
3.6667 Harris, Daveona Maree
3.6667 Jacobs, Keith Roysell
3.6667 Love, Kenya E
3.5000 Deal, A j Terrell
3.5000 Flowers, Stanley V
3.5000 Haynes, Kvon M
3.5000 Nash, Destiny G
6th Grade
4.0000 Dixon, Summer Mariah
4.0000 Gillespie, Ramando C
4.0000 Handson, Trinity L
4.0000 Mariscal-Dominguez, Brisa C
4.0000 Weaver, Jakayla Ivy
3.8333 Belden, Chloe Marie
3.6667 Dickerson, Montell M
3.6667 Laurel, Rashad Dominick
3.6667 Swift, Jaylen Christopher
3.6667 Woods, Daquan Markell
3.5000 Madison, Ariyah
3.5000 Hill, Zamarion
3.5000 Smittie, Deion Monique
Carr Lane Perfect Attendance 1st Semester Fall 2020
8th Grade
Cooper, Wallace
Elliott, Amijah
Harris, Tristan
Jean-Baptiste, Micayah
Lacey, Arianna
Miller, Kamani
Nolan, Aaliyah
Nolan, Cianna
Rivas-Utrera, Samantha
Roddie-Williams, Alyssa
Smith, Calen
Vincent, Tori
7th Grade
Allen, Sariyah
Cameron, Crosby
Edwards, Armoni
Ford, Makhi
Jackson, Laden
Jacobs, Keith
James, Cameron
Love, Javon
Love, Kenya
Smith, Nekyra
Terry, Dyra
Walker, Amorii
Wilbourn, Shania
Wynn, MacKenzie
6th Grade
Bell, Keon
Curry, Jayla
Dixon, Summer
Handson, Trinity
Mariscal-Dominnnguez, Brisa
Mejia, Vanessa
Williams, Zimontey
* * *
Carr Lane VPA Class Schedule 2020-2021
| | | |
| --- | --- | --- |
| 6th Grade | 7th Grade | 8th |
| Period 1-7:15-8:25 | Period 1-7:15-8:25 | Period 1-7:15-8:25 |
| Period 2- 8:30-9:40 | Period 2- 8:30-9:40 | Period 2- 8:30-9:40 |
| Period 3- 9:45-10:20 | Period 3- 9:45-10:20 | Period 3- 9:45-10:55 |
| Lunch-10:25-10:55 | Lunch-10:25-10:55 | Lunch-11:00-11:35 |
| Period 3-11:00-11:35 | Period 3-11:00-11:35 | Period 4 11:40-12:50 |
| Period 4 11:40-12:50 | Period 4 11:40-12:50 | Advisory 12:55-1:07 |
| Advisory 12:55-1:07 | Advisory 12:55-1:07 | |
Click here to see the Class Schedule in PDF

* * *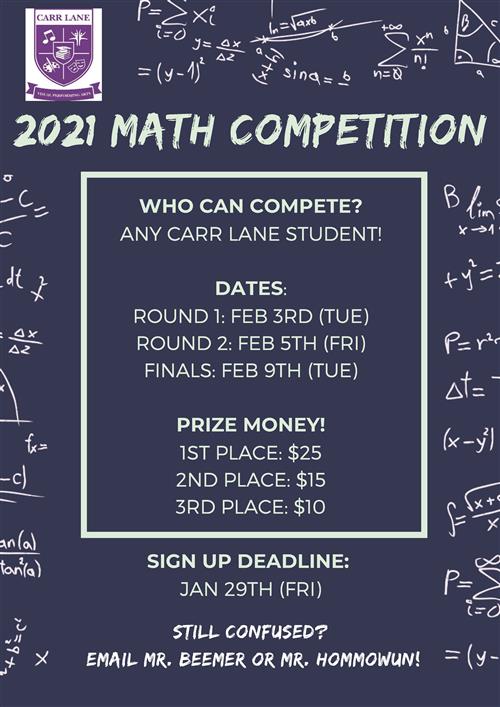 The results are in for the 2021 Carr Lane VPA Mathathon Competition!
Of almost 60 students, our champions have proven themselves as the top mathematicians in each grade level! Mr. Hommowun and I encourage you to congratulate these students for the hard work and perseverance they have shown in this rigorous competition. The winners are:
6th Grade:
1st Place: Ramando Gillespie
2nd Place: Janell Degraffenried
3rd Place: Brisa Mariscal
7th Grade:
1st Place: Kayle Johnson
2nd Place: Mackenzie Wynn
3rd Place: Hassan Evers
8th Grade:
1st Place: Ronald Comage
2nd Place: Aaliyah Bounds
3rd Place: Stony Billings
Once again, congratulations to these scholars for their exceptional hard work!
Thank you,
Mr. Beemer
* * *
There is a local nonprofit called LOVEtheLOU that has a youth mentorship program called STL|LIFT. You may see more about them via the link, below:
Click here for more on LOVEtheLOU!
Several of Mr. Beemer's students applied, interviewed, and were accepted into this program this year!
Congratulations to:
De'Asia Clark

Andre Rush

Jerese Luster

Keith Jacobs

Sariyah Allen

Hassan Evers
* * *
IMPORTANT RESOURCE LINKS
Virtual Learning: Microsoft Teams.lnk
Free Grab-and-Go Meal Kits: UPDATE: WE WILL SHIFT TO ONCE WEEKLY MEAL SERVICE ON MONDAY'S. STUDENTS WILL TAKE HOME A MEAL KIT WITH MEALS FOR SEVEN DAYS. SITES ARE OPEN 8AM TO NOON: www.slps.org/meals
Academic materials: www.slps.org/keeponlearning,www.slps.org/extendedresources
COVID-19 FAQs: www.slps.org/covidfaqs

General hotline for questions, concerns: 314-437-8430
Social and economic resources for families: www.slps.org/resources

Social and emotional support hotline for students/parents: 314-345-6900,studentservices@slps.org
For Parents and Caregivers: Preparing Students for the Return to School
The links below contains information on utility assistance from Ameren.
Their deadlines have been extended.
Ameren Missouri Energy Assistance
* * *
LINK TO STUDENT'S VIRTUAL CLASSES IN MICROSOFT TEAMS!
CARR LANE MAKES LIST OF AMERICA'S HEALTHIEST SCHOOLS!
If you, your student, or family member
needs someone to talk to, click on the United Way link.
This will help you connect to trained professionals 24/7!
VIRTUAL MENTAL HEALTH SERVICES
COVID-19 Resources for Families
* * *
Carr Lane Virtual Norms and Etiquette
Question for Principal Young? Reach him directly at: Carr Lane Parent Help
* * *