Welcome to the Monroe Elementary School Principal's Corner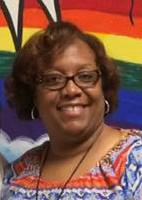 Hello Monroe Families!
Welcome to Monroe Elementary School! I am so excited to welcome you to the 2021-22 school year and I am equally excited to be a part of the Monroe family and supporting your child through their educational journey. My focus is to ensure your child is getting the best education possible while under our care. Choosing the right elementary school is critical and we are honored that you have chosen us.
We serve students in Pre-K through Grade 6 and are proud to provide all students with the nurturing educational environment that is crucial in ensuring their academic success. We provide a solid curriculum that focuses on reading, math, social studies and science. All teachers provide daily differentiated instructional opportunities designed to meet the individual needs of each child.
We are committed to ensuring your child is equipped with tools not only be successful in school but also in life. We have a committed staff that is eager to work with every child that enters our school. We make it our priority to make certain your child grows socially and academically while being engaged in high quality lessons daily. As you know it takes a partnership between school and home to increase academic performance so parents we need you to be a part of our team. Please feel free to support us and be a part of our mission of educating, encouraging and empowering all students while setting high expectations and promoting academic excellence. We look forward to working with you and your child.
As we begin our year, we are committed to providing quality instruction each and every day. Our instructional team will implement the following:
Live and recorded lessons

Powerpoint Presentations

Independent Activities in Reading, Math, Science and Social Studies

Written Assignments, Assessments/Quizzes, etc.

Culture and Community Building Activities
Below, I have included some information for our families to assist us with making your Scholar's learning experience engaging and effective. Please support us with:
Ensuring your Scholar attends school daily, on time and ready to learn

Ensuring your Scholar completes all independent activities, including those in Art, Music and PE

Ensuring your Scholar follows the guidelines in the Code of Conduct
With your support, your child's learning experience will be productive and we thank you in advance for your support.
If you have any questions, please reach out to your child's teacher immediately via email or feel free to call me @ (314) 776-7315.
As we continue our mission of "Preparing Future Leaders" please know the staff at Monroe Elementary will work hard on your child's behalf to prepare them socially, emotionally and most importantly, academically. That is my commitment to you.
Again, I welcome you and look forward to working with you this year!
Sincerely,
Ms. Sonya Wayne, Principal
---