MONROE ELEMENTARY SCHOOL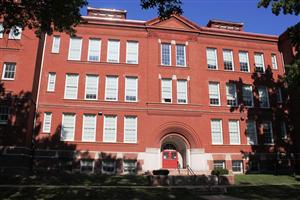 3641 Missouri Ave.
St. Louis, MO 63118
Office 314-776-7315
Fax 314-244-1843
Principal: Sonya Wayne
Hours: 8:05am-3:02pm

Click HERE for a map.
Greetings,
Welcome to Monroe Elementary School, home of the Mighty Dragons! We are so happy you are visiting our page! It has been a long time since we have been able to come together to engage and celebrate learning and we miss our students dearly. Until we can reunite and work in the same space, please know we will do everything we can to ensure your child's learning continues.
Our students will be engaged in virtual learning for the Fall Quarter and our teachers are excited to meet and work with your child. Please look forward to hearing from your child's teacher regarding assignments and log-on information as your child will be engaged in continuous learning in all content areas every day.
To ensure our students have the necessary technology to engage in virtual learning, please see below:
iPad Distribution:
K-5: August 26-28, 2020
Time: 9:00-3:00
Pre-School: September 2-4, 2020
Time: 9:00-3:00
Need an additional time? Please call the school @ 314 776 7315.
If you have any questions regarding the iPads or have difficulty logging on for lessons, please reach out to your child's teacher or Ms. Wingo, our Tech Liaison @ pamela.wingo@slps.org.
Remember, our first day of learning is Monday, August 31, 2020!
If you are in need of any social or emotional support during this difficult time, our District's direct hotline number is 314-345-6900 or please feel free to email: studentservices@slps.org.
COVID-19 FAQs: www.slps.org/covidfaqs
FREE MEALS FOR STUDENTS: www.slps.org/meals
ADDITIONAL RESOURCES: www.slps.org/resources
We look forward to our partnership with you!
(Click the link above)
Contact Information:
Principal: Ms. Sonya Wayne
Phone: 314-776 7315
Email: sonya.wayne@slps.org
Parent Technology Support Hotline: (314) 345 5656
Monroe's Tech Liaison: Mrs. Pamela Wingo-- Pamela.wingo@slps.org