Welcome to the Humboldt Academy Principal's Corner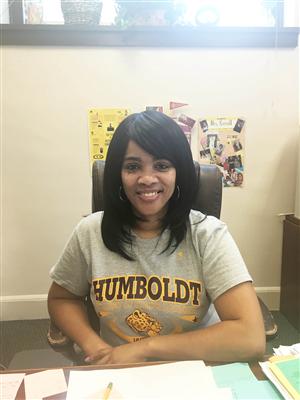 Welcome to our place of learning! A place where above average people are doing above average things!
My philosophy is that a leader must lead and live by example. I believe that the foundation of effective leadership is personal integrity. I know that my actions will be observed; therefore, I must strive to show excellence on a daily basis. My actions represent self-quality, honesty and respect.
I believe that we are all unique, but collectively, our differences have the power to create an environment of greatness. I believe in the power of respect, especially for diversity. We cannot afford to focus on things that we can't change, but must focus on the many possibilities.
I believe that our daily approach towards excellence must be guided by a distinctive set of beliefs. I believe that all decisions should be based on the voice of all those involved, especially the children. I believe that I am only as strong as my team and that I must allow their gifts to blossom by providing opportunities for leadership and growth.
I believe in fairness, meaning that all members, children and adults get what they personally need to be successful. The power of differentiation works in more ways than one. Every person, adult or child that I'm entrusted to lead will be given a fair chance to succeed.
My daily mission is to assure that students receive a well balanced educational plan, where they feel safe and nurtured. My mission is to make sure that all children are introduced to a curriculum that has something to offer every learner. My mission is to be a positive light in the life of a child.