Welcome to the Lyon Academy Principal's Corner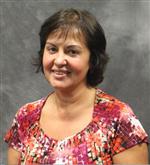 Dear Parents, Students and Visitors,
Welcome to Lyon Academy, a pre-kindergarten through 8th grade school community where learning is focused on preparing all students to be successful through high school and beyond.
Lyon Academy has implemented a virtual learning program for students since Monday, April 6, 2020.
To find specific information about your student's teacher virtual learning, please go to Lyon Academy Homepage. Under the Faculty tab, find the name of your child's teacher, then click to find specific information and get connected.
Every teacher and staff member at Lyon has been working hard and preparing virtual learning plans for our students. The goal of virtual learning is to ensure student education is continuous and ongoing during this time of social distancing. Our virtual learning plans allow these unprecedented days to be considered "regular" school days. It is important for our students to actively participate in virtual learning.
Please note that students are not expected to be online all day and teachers have suggested work times and schedules for the students.
Teachers will be available to support students with virtual learning and have set office hours, during which teachers will be available to give support and answer any questions students have.
Please understand that teachers will be receiving a large number of outside communications. They will respond to your message as quickly as possible. Please be patient. If you experience persistent communication issues, please contact our school's office at 314-353-1349, during set school office hours.
---