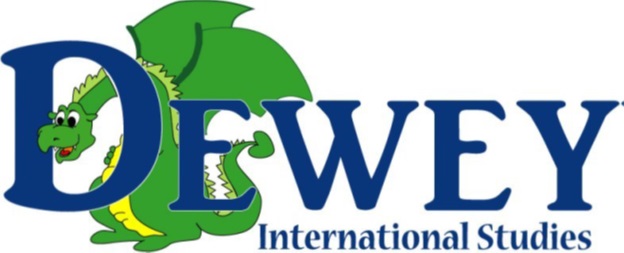 Welcome to Dewey International Studies School!
We are looking forward to a wonderful 2021/2022 school year. At this time, Dewey is only offering in-person learning for the 21/22 school year.
We are very excited to see all of our wonderful students back in the building, and we are hopeful that we will be able to welcome back our parents and volunteers!

Beginning August 2nd:
Registration paperwork can be brought to Dewey's main office Monday - Friday between 9:00 am and 3:00 pm. Registration paperwork can be found in our links or we can provide a paper copy for you when you come to the office. It is important that you bring the most up-to-date immunization records, original birth certificate and proof of residence.
August 7th

: SLPS Safe Start 2021, 9:00 a.m. - 3:00 p.m. at the Gateway Elementary Complex
Free health and wellness screenings, immunizations, restart plan information, school supplies, books, and more.
Click here to register in advance (for Covid-19 or other childhood immunizations only).
August 19th:
Dewey will host a daytime virtual open house for all grade levels via Zoom.
August 19th at 5:00 p.m.

: Virtual Principal/Parent meeting via Zoom.
August 20th: In-Person supply drop off. 9:30 a.m. - 2:00 p.m.
If you are interested in having your child attend Dewey, please apply utilizing the link below. We have openings and we would love for you to consider joining our school!

If you have any questions or concerns, please call or email.
Andrew Donovan, Principal
E-Mail: Andrew.Donovan@slps.org
Phone: 314-645-4845
Lisa Brown, Assistant Principal
E-Mail: Lisa.Brown@slps.org
Phone: 314-645-4845
Jimele Palmer, Technology Coordinator
E-Mail: Jimele.Palmer@slps.org
Phone: 314-325-2285, 314-645-4845
Chiquita Keeble, Secretary
E-Mail: Chiquita.Keeble@slps.org
Phone: 314-645-4845
Joyce Spann, Family Community Specialist
Email: Joyce.Spann@slps.org
Phone: 314-645-4845

6746 Clayton Avenue
St. Louis, MO 63139
Office 314-645-4845
Fax 314-244-1760 (office) or 314-244-1960 (library)
Principal: Andrew Donovan
Hours: 9:20am - 4:17pm
Grades: P4-5
Click HERE for a map.