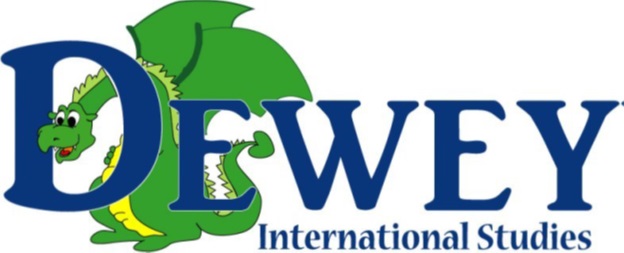 Welcome to Dewey International Studies School! We are looking forward to a wonderful 20/21 school year.
We will begin the first quarter utilizing our virtual platforms. Students will continue to receive Foreign Language and Related Arts opportunities virtually.
Learning Centers will be opening for the first quarter. Students attending the centers have been notified and additional information will be available soon.
This year will be different but safety is our first priority and we will do everything possible to provide a high quality educational experience while following CDC guidelines.
Contact Us!
If you have any questions or concerns, please call or email us.
Andrew Donovan, Principal
E-Mail: Andrew.Donovan@slps.org
Phone: 314-645-4845
DeAdrienne Torrey, Assistant Principal
E-Mail: Deadrienne.torrey@slps.org
Phone: 314-645-4845
Jimele Palmer, Dewey's Technology Coordinator
E-Mail: Jimele.Palmer@slps.org
Phone: 314-325-2285, 314-645-4845
Chiquita Keeble, Dewey's Secretary
E-Mail: Chiquita.Keeble@slps.org
Phone: 314-645-4845
Joyce Spann, Dewey's Family Community Specialist
Email: Joyce.Spann@slps.org
Phone: 314-645-4845
New Student Registration
If you are a new family to Dewey, welcome, and please bring your child's proof of residence, original birth certificate, and immunization records when you pick up supplies. We will add a copy of those documents to your child's file. To promote contactless registration, all other documents will soon be available on parent portal.
Supply Pick-up
We had a wonderful turnout for supply distribution! If you have not picked up your supplies, please call the school to arrange a pick up time.
Virtual Open House
Please plan on attending our virtual open house on August 28th. Each grade level will host an open house at different times to accomodate parents with multiple enrolled children.
When: August 28th
Where: Zoom links have been emailed to parents.
PK and Kg 8:30-9:30
1stgrade 9:30-10:30
2ndgrade 10:30-11:30
3rdgrade 11:30-12:30
4thgrade 12:30-1:30
5thgrade 1:30-2:30

6746 Clayton Avenue
St. Louis, MO 63139
Office 314-645-4845
Fax 314-244-1760 (office) or 314-244-1960 (library)
Principal: Andrew Donovan
Hours: 9:20am - 4:17pm
Grades: PK-5
Click HERE for a map.