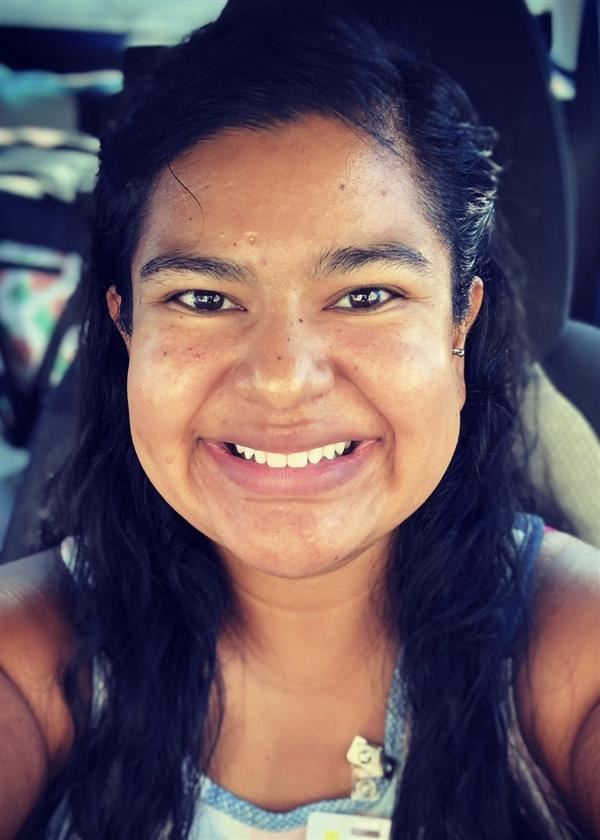 Phone:
Email:
Degrees and Certifications:
Bachelor of Arts Psychology Bachelor of Arts Early Childhood Education w/Career Cert. in Early Childhood Education w/Career Cert. in Elementary Education
Ms.

Alexandra Ormsby

Please click here to visit our class Microsoft Team.

Welcome!

*** CHECK "OWLET NEWS" PAGE TO STAY UP TO DATE WITH INFO ***

Hello, my name is Ms. Ormsby. I am excited to be returning to Hickey this school year as a 4th grade teacher. This will be my first year teaching 4th grade at this school, but my third year teaching 4th grade as a teacher as I am beginning my seventh year of teaching in general.

About Me

While I was born in Guatemala, I consider myself a St. Louis native since I moved here after being adopted when I was three years old. I grew up in North County and attended schools in the Ferguson-Florissant School District, but I ended up graduating from Clayton High School. I attended Webster University and graduated with a double bachelors degree in Early Childhood Education and Psychology. While completing my studies at Webster, I had the opportunity to complete a few of my practical education courses in SLPS schools (including student teaching). I also spent my three years as a Webster student volunteering in K & 1st grade classrooms at Mason Elementary. My initial experiences at SLPS are why I am excited to return as an actual teacher and look forward to helping the children of Hickey Elementary learn and grow.

I am a proud cat mom to two black beauties: Wemberly and Beatrix Potter. Wemberly helps remind me of how interesting teaching can be since I rescued her after she smuggled her way into my previous school's building during arrival time on the second day of school! When I am not teaching and helping children learn, I can be found curled up with my cats reading (which may or may not end with me joining them in a cat nap!), listening to music, or watching tv/movies. In addition to curling up with my cats, I can be found creating art, running, rock climbing, swimming, or simply hanging out with my family and friends. Furthermore, I can be found enjoying our beautiful city by frequenting local stores and restaurants, attending shows at The Fabulous Fox Theatre and The Muny, and exploring various parks and nature areas.

Rainbow of Fun Facts

1. I have a three year old nephew who is my little nugget of sunshine. I visit him in Portland, OR as often as I can.

2. Speaking of traveling, I have major WANDERLUST and absolutely love traveling and exploring new places. I have traveled/explored 32 states and 12 countries. I am anxiously awaiting my next excursion!

3. I love reading and books! Books are magical to me because they can take you on grand adventures, as well as broaden your knowledge on a multitude of topics/issues. My apartment and classroom both have extensive libraries covering a wide variety of interests and genres. Don't ask me to Marie Kondo my libraries because they all spark joy for me! (I know this is technically supposed to be yellow, but yellow text is impossible to read.)

4. My second love is ART. I enjoy every aspect of the art world - seeing/experiencing artwork; researching/learning about different kinds of art/artists; and creating art. Painting, drawing with charcoal and oil pastels, and photography are the main mediums I use to create my artwork.

5. I recently began running (which was a huge step outside of my comfort zone) and love that I live in a city with several different beautiful parks I can run in. I celebrated my 1 year running anniversary by running the St. Paddy's Day Half Marathon in Creve Coeur Park. While I am not a fast runner, I love how empowered running makes me feel and use this experience to help teach my kiddos the importance of trying new things and not giving up - even when it's hard or when we think we're not good at something.

6. I am a St. Louis sports fan through and through! I love the Cardinals and the Blues, and I can't wait to cheer on our new MLS soccer team!!

7. My Favorite Things: color = green; sport = baseball; food = Asian (especially Indian & Thai); season = spring; children's book = Wemberly Worried (my Wemberly's namesake); song = Just Like Fire by P!nk; movie = Harry Potter and the Prisoner of Azkaban; musical = Wicked; subject = history (with math as a close second)

Please click here to visit our class Microsoft Team.