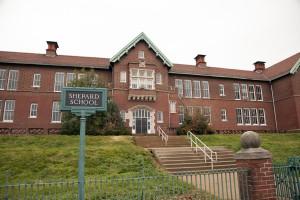 3450 Wisconsin Ave. (Ward 9)
Neighborhood: Marine Villa
Year Constructed: 1906
Gross SF: 61,998
Acreage: 2.54
Year Closed: 2009
List Price: $619,980 + addtitional for lot
Status: SOLD (6/17/16)

This W.B. Ittner-designed historic building -- located in the Cherokee Street District, just west of the Lemp Brewery -- is ideal for mixed, residential or commercial reuses. It was named for Elihu Shepard (1795-1876), founder of the Missouri Historical Society.

Please note an additional 2.66-acre lot was made available to the purchaser of Shepard School. This adjoining acreage brought the total site to approximately 5.2 acres. The school and the lot were sold to Moonlight Partners LLC for $680,000 on June 17, 2016. The site is being redeveloped into 55 market-rate apartments.