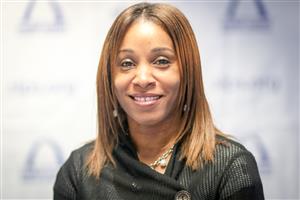 Ciciley Johnson, Principal
Dear Mallinckrodt Family,
As the new Principal of Mallinckrodt Academy of Gifted Instruction, I am both excited and honored to become a member of this great school community. I am very passionate about education, and I look forward to partnering with you to provide our students with a rigorous, engaging and high-quality elementary school experience. As the parent of two girls, 8 and 21, I recognize the importance of a strong home-school relationship. Parents are every child's first teacher, and I believe that by working together, we can make sure your child's social, emotional, and academic needs are met while motivating them to aspire to greatness.
Over the past few weeks, I have had the opportunity to meet some staff, students, and parent members of the Mallinckrodt family and in every conversation, your pride in Mallinckrodt has shone through. Along with the teachers and staff, I will work diligently to continue the legacy of success established by Mallinckrodt Academy of Gifted Instruction. This goal will be met by building strong relationships with parents, students, and community partners.
Not only have I served in a variety of teaching and educational leadership roles within the district over the last 16 years, but also I am a graduate of Saint Louis Public Schools. My educational journey through SLPS taught me valuable life lessons, and I am truly proud to have an opportunity to serve in such a capacity to mirror my experiences. I look forward to listening to your ideas and vision for our school, learning from you about our community, and leading with you as we enter the 2019/2020 school year together.
Best wishes,
Ciciley Johnson