Welcome to Nance
8959 Riverview Blvd.
St. Louis, MO 63147
Office 314-867-0634
Fax 314-244-1847

Principal: Dr. Tyler A. Archer
Hours: 8:05am - 3:02pm
Grades: PK-6

Click HERE for a map.

This year, our theme is "Knights are Ready to Conquer Level 20!" We are encouraging everyone-- students, staff, families and our community-- to "level up" this year in their academics, behavior, and attendance. Students have been engaged in culture-building and team-building activities during the opening days of school to learn about their classmates and teachers and create a positive community of learners. With many of our COVID-related limitations lifted this year, we are looking forward to holding more in-person family events and activities.

Here are a few reminders for families for the first full month of the school year:



In accordance with district policy, students are not allowed to have cell phones visible or in use during the day. Phones must be stored in bookbags in classroom lockers each morning. In case of emergency, please contact the main office to reach your child.


Don't forget, Nance is a uniform school. All students should wear a blue, white, green, or navy polo shirt and tan, black, khaki, or navy pants each day. Jeans are only allowed on Fridays.


School hours are 8:05 AM-3:02 PM daily. Door 6 opens at 7:50 AM each day for student arrival. Students who are picked up will be released from the gym beginning at 3 PM. Parents are asked to remain in their vehicles when dropping off and picking up students.
Principal's Corner
Dear Parents and Families,

I hope this newsletter finds you and your family healthy and excited for the possibilities the new year brings. As we enter January, I wanted to take the opportunity to provide families with a few important updates:

Daily, on-time attendance is very important to student success. Last week we celebrated all of our students who had 90% attendance or more through December, or showed an attendance increase over the last month of the semester. Please help your child be successful by giving them the opportunity to have a full day of learning every day, and notifying school staff when your child is absent.


Throughout the fall 2022 semester, the Nance Leadership Team has been gathering feedback from stakeholders (students, parents, families, and staff) about our core values. We are proposing adopting the following core values to guide our school starting with the 2023-2024 school year: Honesty, Empathy, Accountability, Respect & Tenacity. We need your feedback! Please take a brief survey at the following link: https://forms.office.com/r/isuve0EXAY. If you provide your name and contact information, you'll be entered to win a gift card!

January will be complete before we know it and February includes some of our most important events-- the 100th day of school and Black History Month! We look forward to an exciting spring semester and are grateful to have you as part of the Nance family.

In partnership,

Dr. Archer

Tyler A. Archer, Ed.D.
Principal
Earl Nance Sr. Elementary
(314) 867-0634
Mission and Vision
The Mission of Earl Nance, Sr. Elementary School is to empower students to have a voice within our community. Each student will achieve success through literacy, innovation, and having culturally responsive classrooms.

Vision: Nance Elementary students will be empowered as change agents to make a positive impact on the world.
Click here to see a summary of Dr. Archer's entry plan which looks ahead to the 2021-2022 school year. Please contact Dr. Archer at Tyler.Archer@slps.org to share your feedback!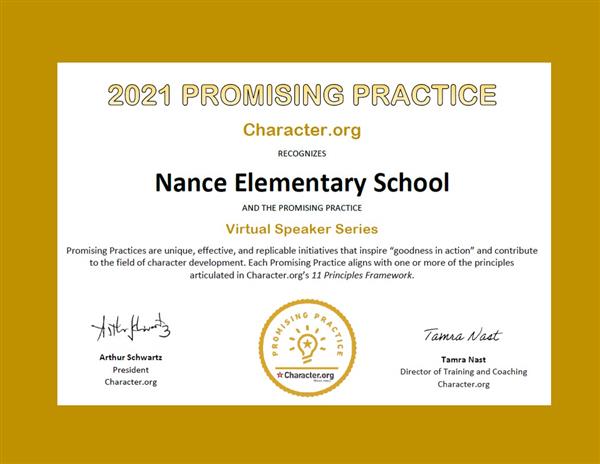 Nance Elementary ESSER II Plan