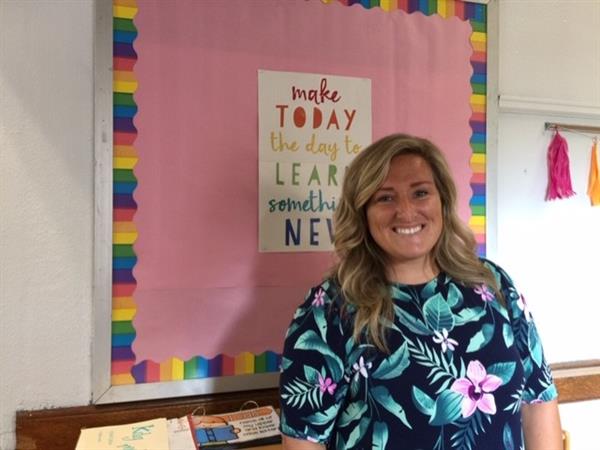 Phone: (618)795-2535
Email:
Degrees and Certifications:
Ms.

Willard

Favorite book: Don't Let The Pigeon Drive The Bus!

Favorite teacher: My Kindergarten teacher, Mrs. Newman :) She's the reason I am a Kindergarten Teacher today!

Favorite hobby: Taking my dog Ellie on walks in the park!
Hello Patrick Henry families!

I know this is a very confusing and stressful time for all of us. What is most important is that we are all staying healthy and safe. In order to make sure that all our kiddos are learning, I have created some assignments/resources for my class while we are not able to be in the classroom.

I will be checking in weekly with you all to see how things are going, help in anyway possible, and to answer any questions you may have! Please do not hesistate to contact me for anything, I am happy and eager to help my Kindergarten friends!

Each week I will update their lessons for math, ELA and science on Freckle. I will also provide addtional websites and resources for them to use. Don't forget brain breaks!! Having our kids move and dance is more important than we think!

Goals:

Math

count to 100 by 1s, 10s,(daily) and if they get really good then try counting by 5s!
pracitce adding and subtracting up to 10.
practice writing our numbers correctly 1-20 :)

ELA (reading/writing)

read for 20min a day! (pick your favorite book) after reading it to yourself, read it to a friend, family member, stuffed animal or toy!
practice sight words from spelling list (read and then rainbow write each word)
draw a picture, color it, then try and write one sentence about what you drew! REMEMBER: Start with a CAPITAL LETTER, FINGER SPACES, and end with a PERIOD.

SCIENCE

observe the weather daily! Think about what would you wear each day based on what the temperature is. Is it cold, warm or hot? Is it sunny? What about when it rains? Is is windy?

Last but not least, Parents, I know this is not an ideal situation. You have a lot on your plates and it is stressfull, but please know that us teachers are here for you!

We are all in this together, and together we will get through this!

Can't wait to see you all...hopefully sooner than later!

<3 Ms. Willard
All Categories
Unassigned
Select Month
January
February
March
April
May
June
July
August
September
October
November
December
Select Year
2019
2020
2021
2022
Filter
Check out Freckle! http://student.freckle.com

Our class code is: V4N6DU

Here you will find each student's name. Once they click on their name, they will see 4 tabs.

Math
ELA
Science
From my teacher

Math, ELA and science all have practice problems, listen and respond, as well as spelling practice.

From my teacher tab: This is where their assignments are posted. Once submitted I will be able to give each student feedback :) It also will be able to have your student work on his or her independent level!