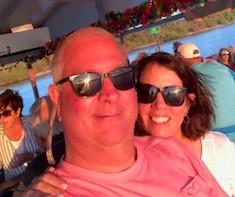 Phone:
Email:
Degrees and Certifications:
Certified to teach Biology and Chemistry Doctorate of Chiropractic Bachelors of Science Human Biology
Dr.

Mark Schisler

Name: Dr. Mark Schisler

Office hours: 9-11 am Mon-Fri by email

District Email: mark.schisler@slps.org

Science Department

Room Number: Lab 4

Subject(s): (Current) AP Biology, Project Lead the Way: Human Body Systems (Previous) Honors Biology, Chemistry, Physics First

I am a graduate of Logan University with a Doctorate of Chiropractic degree, and a Bachelors of Science Human Biology degree. I practiced Chiropractic locally for 15 years then began my teaching career in 2010. I love teacing because I love learning. I am intensely curious about how and why things work and try to instill intellectual curiosity in my students every day by asking them lots of questions and encouraging them to do the same.

Have a great summer! Please do whatever you can to stay curious.

If you are planning to take AP Bio next year, you will need to complete the following summer assignment.