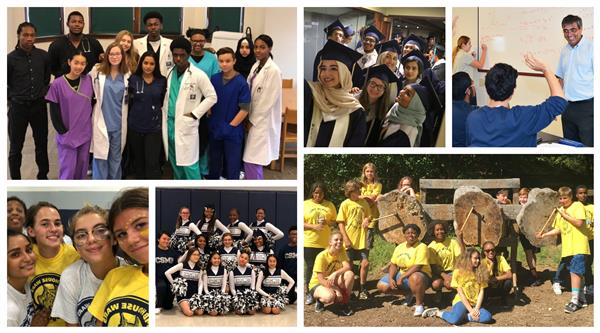 The Values That Drive Everything We Do

Strong Academic Habits

Collegiate School of Medicine and Bioscience is dedicated to teaching academic habits, which will sustain lifelong learning in students. Students learn how to learn -- whether it be taking notes, studying, or writing -- to prepare for success in college and in life. Our teachers nurture confident and critical thinkers who have mastered academic skills and competencies across a variety of academic disciplines.

Respect

Collegiate School of Medicine and Bioscience offers a safe and inclusive school community where individuals are expected to respect themselves, one another, and their environment. Through personal relationships with diverse groups and individuals, we learn to understand others and ourselves and work effectively as part of a team.

Compassion & Ethics

Collegiate School of Medicine and Bioscience believes that the development of compassion and being of an ethical mind –- and the desire to make a positive difference in the lives of others – is essential to being a productive member of a community. Through the study of multiple viewpoints and the act of service, students develop empathy for those around them.

Integrity

Collegiate School of Medicine and Bioscience encourages all members of its community to hold themselves to the highest code of conduct, which includes academic honesty. Led by a commitment to the common good, we strive to do what is right -- even when nobody is looking.

Self-Discipline

Hard work and self-discipline are essential components of success. CSMB challenges students to develop a strong work ethic and the internal motivation to persevere through times of challenge.

Intellectual Curiosity

Collegiate School of Medicine and Bioscience encourages students' natural inquisitiveness and wonder about the world. Asking questions and taking risks is as important as searching for the right answer. With the desire and courage to move confidently into the future, students can adapt to an ever-changing future in pursuit of their dreams.