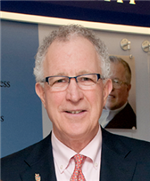 Phone:
Email:
Degrees and Certifications:
Bob Fox

In 2004, Bob and his wife, Maxine Clark, founded the Clark-Fox Family Foundation to support the St. Louis community in areas vital to regional growth and prosperity. In 2014, the Foundation launched Blueprint4Summer, a free and easy-to-use mobile app designed to help families in marginalized communities navigate summer activities for their children. In 2016, BluePrint4CollegeAccess was added, and in 2019, BluePrint4Careers. In 2015, under Bob's leadership, the Clark-Fox Family Foundation launched its Mass Incarceration Community Education Initiative, which gives presentations on criminal justice reform regionally and statewide. In addition, the Foundation produces interactive regional resource ecosystem maps for childhood well-being, workforce development, homelessness, criminal justice, immigrants, and refugees.

Bob and Maxine were founding sponsors of Teach For America and KIPP Charter Schools in the St. Louis region. In 2015, they funded the establishment of the Clark-Fox Policy Institute and Forum at the Brown School of Social Work, Social Policy, and Public Health. Bob is a founding member and still serves on the Board of the Gephardt National Council at Washington University.

Bob is the Founder and Past Chair of Casa de Salud, a nonprofit health and wellness center that welcomes new immigrants out of isolation and into the embrace of the St. Louis community. In 2012, he founded St. Louis Regional Taskforce on Immigration and Innovation which launched The St. Louis Mosaic Project in 2013.

Bob is the Founding Chair of the Board of inspireSTL, a not-for-profit educational initiative started in 2011. In 2015, he was instrumental in merging inspireSTL with Wyman Center, which serves over 32,000 youth nationally. He has been a Trustee of Saint Louis University since 2006, where he continues to serve.