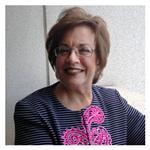 Phone:
Email:
Degrees and Certifications:
Susan Katzman

Retired Divisional Director for Career & Technical Education in St. Louis Public Schools

Susan Katzman retired from St. Louis Public Schools as divisional director for Career & Technical Education in 2005. During her 36 years with the school district, she had management responsibilities for such areas as career education, summer school, curriculum writing and revision, technical education, career academies, and high school reform. She also provided oversight for a variety of special projects including magnet and alternative school development, college, dual credit and articulation agreements, corporate relations, the opening of school events, district reports to the community, development of grants from federal, state, and local entities and the design, construction and programmatic development of a new $30M state-of-the-art academic and technical high school, the Clyde C. Miller Career Academy.

Over the years, while Director of Career Education, she and her staff developed (through the Voluntary Desegregation Program) a comprehensive preschool-grade 12 program that included classroom curricula and over 15 experiential programs for students of over 3-500 people. The curricula were sold nationally and the staff helped over 26 cities, including Paris, France, replicate the yearly Career Awareness Fair at America's Center held for over 12,000 area eighth graders and 900 businesspersons. The Career Education program has received national recognition over the years, including designation as a model youth employment/training program through the Council of the Great City Schools and the National Planning for Life Award through the U.S. Army and USA Today. Susan and her staff introduced 14 Career Academies into the district high schools.

Nationally, Susan is the past president and current secretary of the National Career Academy Coalition (an umbrella organization for career academies). She has keynoted or presented at over 85 national conferences; written curriculum guides; developed college and career programs that are now used as national models; designed and conducted training on national standards for career academies, long-range/strategic planning, and corporate involvement. She has written articles including The Role of Career Education in School-to-Work Transition through the ERIC Clearinghouse and, most recently, wrote a major chapter for the book, The History of Career Education. Susan currently serves as a consultant to school districts and corporations through The SEK Group.

She serves on the board of the St. Louis Community Credit Union and as board chair of the Credit Union Foundation, Prosperity Connection, and President of the National Council of Jewish Women-STL. She was a founding member of the St. Louis Public Schools Collegiate Medical and Bioscience Magnet High School and serves on its board. Susan helped start the Michael Thomas Scholarship Fund and Susan's New Journey Fund, directed at high school seniors. Susan earned both her bachelor's and master's degrees from the University of Wisconsin/Madison.