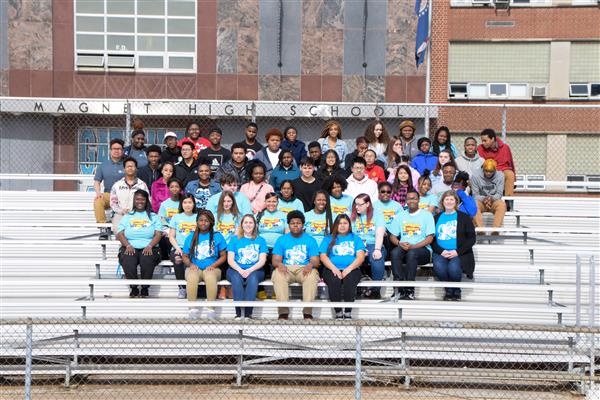 Phone: 314/776-3300 Room 410W Media Center 413W
Email:
Degrees and Certifications:
BA; MA MO Certifications: English Speech & Theatre Journalism K-12 Library Media Specialist K-12 Special Education
Ms.

Lisa Dennison

Photo, left: Ms. Dennison with 2019-20 Journalism/Publications Crew

2019-20 YEARBOOKS ARE HERE--IN THE BUILDING!!

2020 SENIORS and their parents are invited to pick up their yearbook, large format senior class photo, and other swag intended to be given during the graduation at Busch Stadium. PLEASE CALL FIRST AND MAKE ARRANGEMENTS FOR NO CONTACT PICK UP.

Are we planning a 2020-21 Yearbook? YOU BETCHA! And I predict it will be the most intereting and unique effort ever!

Journalism/Yearbook has more than doubled in size this year and I am excited to lead this unique class. Journalism I is now open to sophomores and anyone else who needs "bootcamp" training in writing and photography, as well as graphic design, for print and online media.

These students make up the staff of our online news magazine, JagTown News, and all photographs from their beats are uploaded as content for the yearboook.

In Publications, we have an experienced crew of students who will guide our online newsmagazine staff in editorial decision making, create and finalize the pages our annual yearbook.

All students are involved in the details of production, such as coordinating picture days, photographing events during and after school, as well as cataloguing the content and details of the entire year. The lessons and skills practiced lead to student growth and maturity in all other disciplines. I am a firm believer in the practical arts as "real world" experiences supporting the core disciplines.

Yearbooks are not just for seniors anymore! While their imprint is indeed prominent, we want to encourage all grade levels to document their years at Gateway through writing and photography submissions to our publications and bring home a yearbook each year, memorializing their growth through high school!