WELCOME STUDENTS AND PARENTS!

Happy Spring! I hope you are managing to stay healthy and safe during these difficult times! It's been a challenging school year, and we've all made tremendous adjustments. While it's certainly not perfect, we've shown that virtual can be successful. Like most efforts, you get out of it what you put into it.

Parent-Teacher Conferences are March 16th & 17th, from 1:15 to 4:30 each day. If you would like to set up a virtual conference, please call me directly at the number listed below for parents. We can meet via Zoom, Microsoft Teams, or simply by phone.

If you are unable to schedule a conference, please send me an e-mail with your questions and concerns, and I will address them in writing.

As this pandemic drags on, it's easy to see fatigue setting into people, and also our students. It's important that we keep fighting the good fight, so this virus doesn't prevent us from being our best selves! If I can help in any way, please let me know!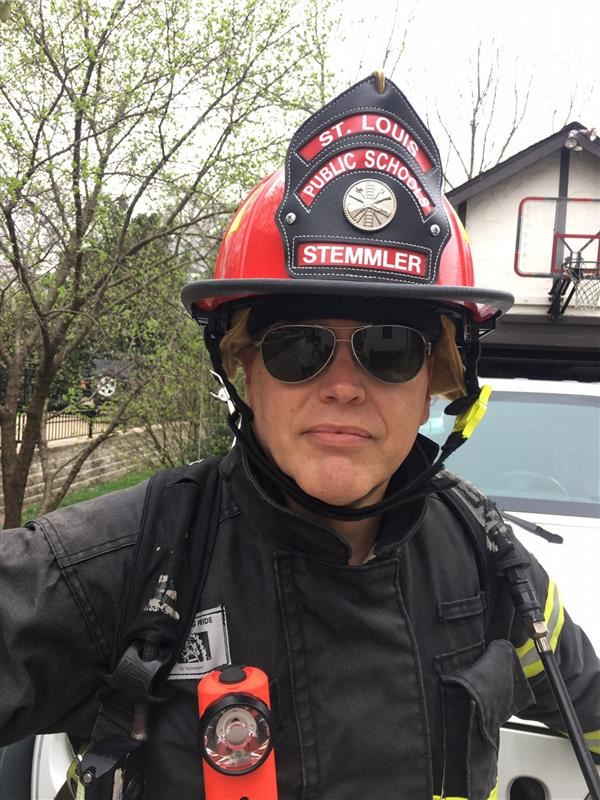 Phone:
Email:
Degrees and Certifications:
B.A. in English; Nationally Registered EMT; Firefighter I & II; Hazardous Materials Awareness and Operations; Fire Instructor I, NFPA1403
Mr.

Michael Stemmler

CLASSROOM: 423e

CELL PHONE: (PARENTS ONLY!) 314-503-8848

Students Use E-Mail:

District policy and state law prohibit me from speaking privately with any student on a device that the district cannot monitor. I'm happy to speak with any student if a parent or guardian is also present.
MEDICAL TERMINOLOGY
INTRO TO FIRE FIGHTING
EMT & FIRE FIGHTING
This is my second year as the Fire Instructor in the SLPS Fire and EMS Academy, and I love it! Teaching is my third career, following video production and vintage truck restorations. I am currently a volunteer fire fighter with the French Village Fire Department in Fairview Heights, Illinois. I am a Nationally-Registered EMT, and hold certifications in Fire Fighter I&II, Hazardous Materials Awareness and Operations, Fire Instructor I,and NFPA1403.
I am passionate about teaching in Career and Technical Education, and helping students get a successful start in the career of their choice. It's fun to see the students learn to use their hands and tools to master fire fighting skills.
I also enjoy introducing Juniors to Medical Terminology, which gives them a basis for understanding anatomy and body systems, and being able to professionally discuss medical issues.
My son graduated from University of Michigan last year and is now living and working as a banker in Chicago. My daughter graduated this spring from Clayton High-School, and is attending Loyola University of Chicago. She is excited to finally be on campus this semester. I live in Clayton with my wife Lois, who works for Edward Jones, and my dog Savannah, who loves playing frisbee but hates storms.