WELCOME STUDENTS AND PARENTS!

Happy Fall! Every year at the start of school, I am struck by the same thought: "Where did the summer go?!" It always seems to go by in a flash! I hope you were able to enjoy the beautiful weather.

It is exciting to have students all returning to school after last year's virtual challenges! Lately, the only constant seems to be change, and Gateway is no different. We are still figuring out how this year will be structured, so be patient and hang on - it's gonna be quite a ride!

I look forward to getting to know my new juniors! Please don't hesitate to reach out if you have any questions or concerns - I am anxious to start building relationships.

Seniors will have an exciting time this year - for the first time, we are taking the whole year to work on just fire fighting, so we can more adequately focus on job preparation and certifications. Can't wait to start training!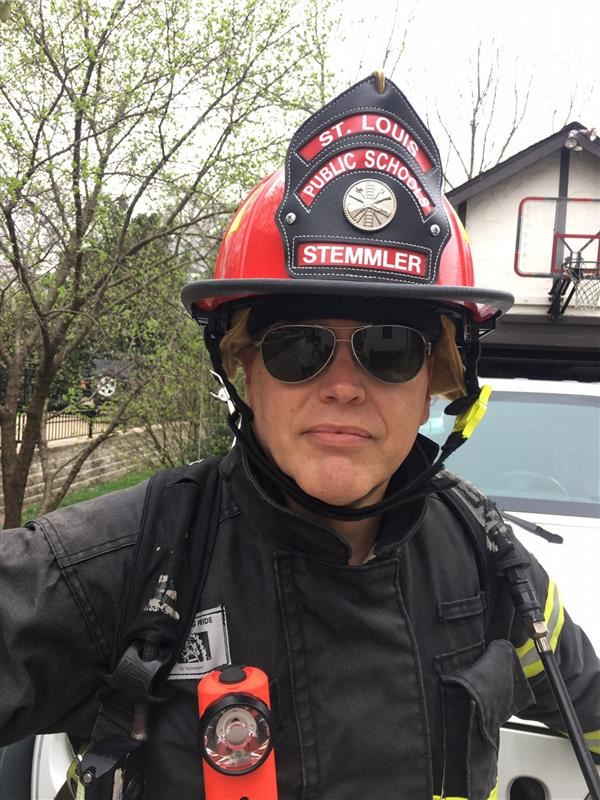 Phone:
Email:
Degrees and Certifications:
B.A. in English; Nationally Registered EMT; Firefighter I & II; Hazardous Materials Awareness and Operations; Fire Instructor I, NFPA1403
Mr.

Michael Stemmler

CLASSROOM: 423e

CELL PHONE: (PARENTS ONLY!) 314-503-8848

Students Use E-Mail:

District policy and state law prohibit me from speaking privately with any student on a device that the district cannot monitor. I'm happy to speak with any student if a parent or guardian is also present.
EMERGENCY TELECOMMUNICATOR
INTRO TO FIRE FIGHTING
EMT & FIRE FIGHTING
This is my third year as the Fire Instructor in the SLPS Fire and EMS Academy, and I love it! Teaching is my third career, following video production and vintage truck restorations. I am currently a volunteer fire fighter with the French Village Fire Department in Fairview Heights, Illinois. I am a Nationally-Registered EMT, and hold certifications in Fire Fighter I&II, Hazardous Materials Awareness and Operations, Fire Instructor I,and NFPA1403.
I am passionate about teaching in Career and Technical Education, and helping students get a successful start in the career of their choice. It's fun to see the students learn to use their hands and tools to master fire fighting skills.
This summer, I took a class to be certifed as an Emergency Tellecommunicator. I am looking forward to sharing this great job skill with my students!
My son graduated from University of Michigan two years ago and is now living and working as a banker in Chicago. My daughter graduated in 2020 from Clayton High-School, and is attending Loyola University of Chicago. She is excited to be moving into an apartment off-campus this year. I live in Clayton with my wife Lois, who works for Edward Jones, and my dog Savannah, who loves playing frisbee but hates storms.